Mr Electric, the UK's leading electrical franchise brand, has teamed up with the University of Wolverhampton and Wolverhampton Homes to trial a new smart heating system, Heat Genius, to help homeowners reduce their energy consumption and bills by only heating the rooms that are being used.
Mr Electric Wolverhampton is one of the electrical businesses involved in the six month trial and recently installed the new intelligent heating system into one of City of Wolverhampton Council homes managed by Wolverhampton Homes. Heat Genius predicts and adapts to a household's energy usage by using a smart thermostat to heat only the parts of the home that are being used. The Genius Hub automatically adjusts the heating schedules for each room, ensuring it's warm when you arrive, but not wasting heat when you're out. It even turns radiators off when a window is open, or when it's a warm day.
Following a product and installation training programme by Heat Gen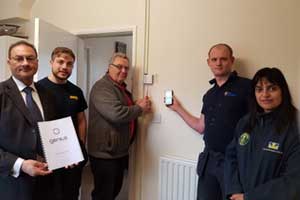 ius, Mr Electric is now able to install the system into all properties, including buildings with gas central heating and internet connection. The system comprises a Genius Hub controller that plugs into your internet router, a boiler controller and a portable wireless thermostat that can be moved from room to room. By being fully wireless, the user can control and monitor the system remotely via a smart device or web browser to identify where savings can be made, as well as seeing which rooms are warmer or colder than they need to be.
Rajiv Dhanjal, working within the ERDF funded Built Environment Climate Change Innovations (BECCI) team, at the University of Wolverhampton, said:
"We are delighted to be working with Mr Electric for the Heat Genius trial and to be able to use their skills and experience for one of the installations in a tenant's home. With the product being local to the West Midlands, we only wanted to work with local heating installers, who were not only reputable, but also demonstrated innovative expertise in eco heating solutions. Mr Electric fitted this exactly and their professionalism and knowledge has really impressed me. Once we have evaluated the pilot later this year, I hope that we can continue our relationship with Mr Electric into the future."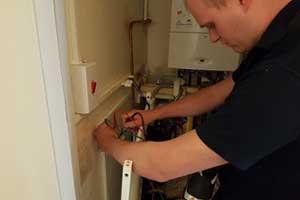 Darren Barley, Mr Electric Wolverhampton, added:
"Smart heating systems are playing an important role in our homes now as more people stay in control of their energy bills. The Genius Hub is a zoned home heating control system that can be a truly "fit and forget" solution, as it learns when you use each room and automatically cuts energy consumption without impacting on your comfort. The fact that the Hub is wireless means it is really easy to install – you don't need fancy wiring or the walls knocked about, you just need the Genius Hub and valves on the radiators to get this new level of flexibility which no other system can offer. We hope to continue to build our relationship with the University of Wolverhampton and Wolverhampton Homes and we will have the opportunity to roll out Heat Genius to many more homes across the region."
The Smart Heating Controls pilot study, managed by the BECCI project, aims to investigate how suitable the Heat Genius system is for local consumers and how easily it can be deployed by the local SMEs. Working with Wolverhampton Homes, suitable properties were chosen and innovation-active SMEs were selected for this six month trial.
For further information about Mr Electric and the services, it can offer, visit http://wolverhampton.co.uk/ or call 01902 290 599.