February 2019 marks the 10th anniversary of the launch of The UK Fire Association (UK-FA), created to support small and medium sized Fire Prevention and Protection companies across the UK.
To mark the occasion the organisation has created an subtly updated anniversary logo and invested in a new website which gives both trade association members and consumers an easy to navigate, up to date platform to search for advice, regulations and members who can offer Fire Safety services, education and training.
Alan Palmer, founding Director and UK-FA Secretary told current members: "this project has taken a while to come to fruition as we all juggle our professional roles with delivering and developing the UK-FA." He continued "I am incredibly proud of the UK-FA and this website is a tool that can make our members more accessible to consumers and each other, when looking for potential partners, using a fantastic new member's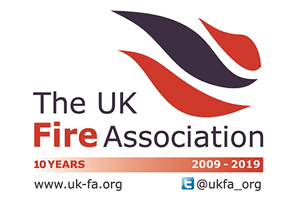 directory."
Treasurer and founding Director Tom Law continues: "we now have over 200 members across all regions of the UK and this online platform is vital to link them together and bring them to the forefront of consumer who, often in an emergency, are looking for Fire Safety Solutions. The new website creates the opportunity for members to take control of their directory listing and to undertake automatic membership renewal and meeting bookings. This makes our administration more efficient which can only be good for members as we focus on delivering technical support and advice."
Andrew Berry, UK-FA Chairman believes the new website will attract other small and medium sized companies to join and create a more interactive and vibrant association for the next 10 years and beyond.
For more ifnromation about the UK-FA please click here